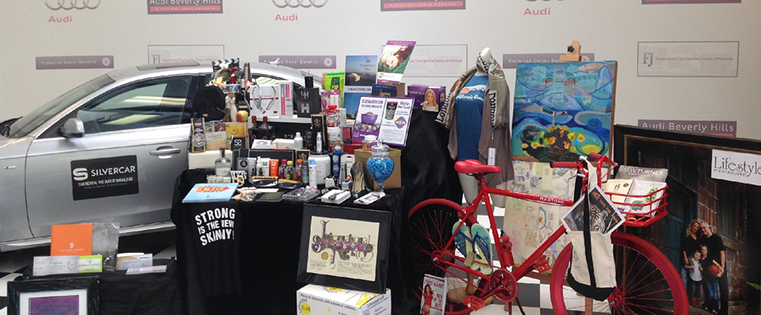 There are two women who can cause websites to crash, phones to ring incessantly, and bidding wars to begin.
Kate Middleton and Michele Obama reign when it comes to driving fashion commerce. The Duchess's choice in apparel spurred one brand's
reintroduction of an item
long gone from the shelves. It's reported that her style choices have brought
$1.5 billion into the British economy
. J. Crew devised an entire strategy, including publishing custom web pages and investing in PPC ads, around the
First Lady's appearance
on the
Tonight Show
.
This type of spark is what many brands are looking for when they invest in celebrity marketing and product placement.
Paying for a celebrity endorsement is one route -- a path that could cost anywhere between $750,000 and more than $5 million if the brand is creating a TV or campaign around the endorsement.
The other route is through gifting -- an industry that is tightly controlled by a few public relations professionals who are matching brands with celebrities.
The Oscars Bag and the Rise of Social Media Inspired Gifting
The
Everybody Wins at the Oscars
bag made headlines this year due to both the contents of the bag and its value -- which came to $168,000.
It included a year's worth of Silvercar rentals, a $20,000 astrology reading, LED light therapy, an Italian vacation package, and a $1,200 bicycle, among many other products.
Lash Fary, the owner of
Distinctive Assets
, selects and coordinates with brands for placement in the coveted bag, which has no official affiliation with the Academy Awards. He has being doing this for the past 13 years.
More than 16 years ago, he was bringing apparel and accessories onto TV sets, such as
Ally McBeal
and
Will & Grace
. It was on these sets that he began to get requests to do personal shopping and gift selection. Eventually, his taste caught the eye of the organizers of the Grammys, which wanted to create a "thank you" gift bag for nominees.
"In the beginning, it was truly educating the brands on this new concept of placing their product with celebrities, getting press around it, and building marketing and promotional campaigns," Fary said.
Today, most brands understand the value of gifting, which has led to more and more extravagant items in the bag. This is one reason why the value of the
Everybody Wins
bag has increased
from $48,000
in 2013 to $168,000 this year.
Distinctive Assets worked with Gibson Guitars for the Grammys, which resulted in a photo of LL Cool J backstage with the product.
A brand's perception of what a valuable product placement is has expanded in recent years, said Fary, and even the definition of a "celebrity" is evolving. Many brands are finding value in catering to people with thousands and even millions of followers on YouTube and Instagram or those with a highly engaged blog audience.
It used to be that getting a placement in the printed edition of
InStyle
or
People
magazine was the gold standard. Now, brands are focused on engagement, rather than simply the number of followers, and they often value a photo on Instagram or Twitter more than traditional press placements.
The Master Marketer of Gift Giving
Fary and his team spent almost a year preparing for the Oscars
Everybody Wins
bag, which is given to nominees who are nominated for but don't win the statue for best actor, best actress, best supporting actor, best supporting actress, and best director. A bag is also provided to the host of the show. For someone like Meryl Streep (19 nominations and three wins), that's a lot of swag to take home each year.
Each brand whose products appear in the gift bag for the Oscars pays between $4,000 and $20,000 for the placement and then the cost of the gift on top of this. Fary selects many of the brands but is also approached by those that want to capitalize on the press surrounding the Hollywood event.
He said that what goes into the bags also depends on his relationship with the organization. For the Grammys, he works hand-in-hand with the event coordinators, so products included can't compete with official sponsors, and he is more careful with the types of products he selects.
In the case of the
Everybody Wins
bag, he has no affiliation with the Academy Awards, so he has free range to include the quirky and even controversial. This year, a $250 vibrator caused a bit of a stir. "People acted like I was handing out nuclear bombs or something in the gift bag," Fary said.
In the past, a gift of LASIK laser eye surgery caused an uproar.
He also is careful to consider the political views of the brand and if they align with his own, and the other reason he cites for turning down a brand that wants to be included is those that offer a coupon-type deal.
For his Mother's Day in Hollywood bag, a company who represents a rental property in the Hamptons wanted to offer a $10,000 discount to the celebrity moms.
"The house costs a million and a half to rent for the summer, so you're basically offering them a 1% discount. That's not going to work," Fary said.
This year's bag will go to new moms or soon-to-be mothers such as Jennifer Love Hweitt, Zoe Saldana, Molly Sims, Blake Lively, Zooery Deschanel, and Mila Kunis, and it includes Coal and Canary candles, Healing Saint Luminosity Skin Serum, organic and vegan baking mix, a scarf for children, and a Cool Gel N Cap.
Fary has received thank you cards from Oprah, Paris Hilton, and others, but he said that today, "the 2015 version of the thank-you note is an Instagram photo."
Swag Suites Take Gifting to New Locations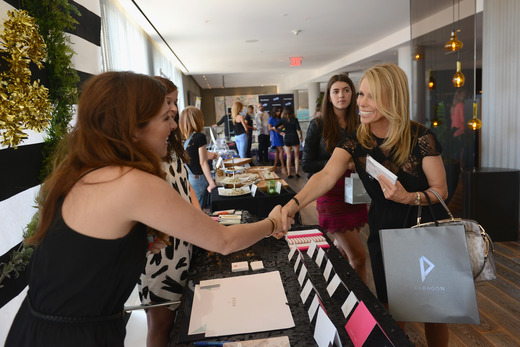 Kari Feinstein is another entrepreneur working to pair brands with celebrities. She took the concept of "gifting" as a marketing play and expanded it so that the gifts became the center of the event.
Previously, brands would secure a suite at a hotel near an event, such as the Grammys or the Oscars, and they would invite celebrities to stop by and try on products.
Feinstein, who owns
Kari Feinstein Public Relations
, decided to rent a larger venue and invite multiple brands and celebrities into these Style Lounges or gifting suites.
Brands pay a sponsorship fee and then the cost of their "gift." For Feinstein's upcoming Music Festival Style Lounge, which coincides with Coachella, sponsorship packages cost between $8,500 and $65,000. The later provides the brand with a rep from Feinstein's team who will assist with social media management during the event.
Feinstein points out that you typically can't even get a celebrity to take a photo with your product for that price. At these events though, it seems more normal. There is a process and a comfort factor for talent.
But as with any opportunity, it is up to the brand to make the most of the investment.
"If the companies know how to utilize their PR and social media, they can really make it effective," Feinstein said. "They can turn those photos and the social media posts into brand awareness and sales."
The Style Lounges are usually a few days before an award show or event at a location near where talent will be staying.
Leading up to the event, the team publishes a deck that outlines sponsorship packages, and begins reaching out to brands they think would be a good fit. They only send invites to celebrities 10 to 14 days in advance, which Feinstein says makes sponsors nervous but is normal. Celebrities don't typically commit to an event months in advance. The final piece is securing press to cover the event and confirming what talent will actually be there. Usually, her style lounges draw around 60 to 70 celebrities and 30 members of the press.
These events can also be a boost for brands getting into a new market or launching new products. It instantly provides credibility and intrigue.
This was the case with Feinstein's inclusion of drones at an event.
Feinstein was reading a tech magazine and noticed a small blurb about DJI (Da-Jiang Innovations) and its drones. While the company's Phantom quadcopter had been outfitted with a GoPro and
flown into a volcano
, the company had spent little to market itself in the U.S. Feinstein included the drones at her style lounge at the Sundance Festival in January of 2014, bringing a product loved by filmmakers and hobbyists into the influencer sphere. It was perfect timing. DJI brought in
$500 million in revenue in 2014
, and it was included in Fast Company's Most Innovative Companies list last year.
"A lot of the brands are seeing direct sales now from participating at these events because social media influencers will post and tag the brands," Feinstein said.
So what kind of sales can celebrities drive?
Kendall Jenner posted a photo on Instagram of her wearing a Jewelry by Veronique ring. Owner
Veronique Vicari saw $3,000
in sales that day.
The Future of Swag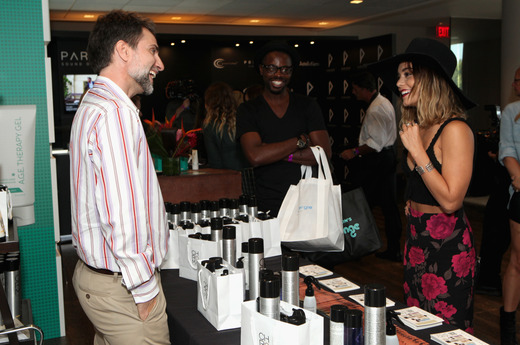 Like all things, the gift giving industry is also evolving.
The proliferation of award shows has created an abundance of opportunity, which has also made brands more cautious when investing. Influencers with millions of Instagram followers or YouTube channel subscribers are getting the attention of brands that would rather promote their product to a targeted audience. Celebrities are becoming more careful about the swag they pick up as some have experienced a backlash from online followers. And the value of print mentions has declined as online outlets rise in importance. Soon, a disappearing Snapchat might be more valuable than a tweet.
To meet these changes, Feinstein's company is launching a subsidiary company focused on influencer relations beyond the style lounge called
Social Traction
. Fary is focusing on organizing and getting sponsors more private events for celebrities. He also works with
Chideo
, a charity broadcast network.
"The truth is that people, regardless of their means, love gifts," Fary said. "It's kind of that child-like thing that happens on Christmas morning. I don't think you ever really outgrow that."
Gifting isn't a low-cost option, but a sprinkle of celebrity stardust might just be worth the investment.
http://blog.hubspot.com/agency/sell-celebrity-insiders-gifting-industry